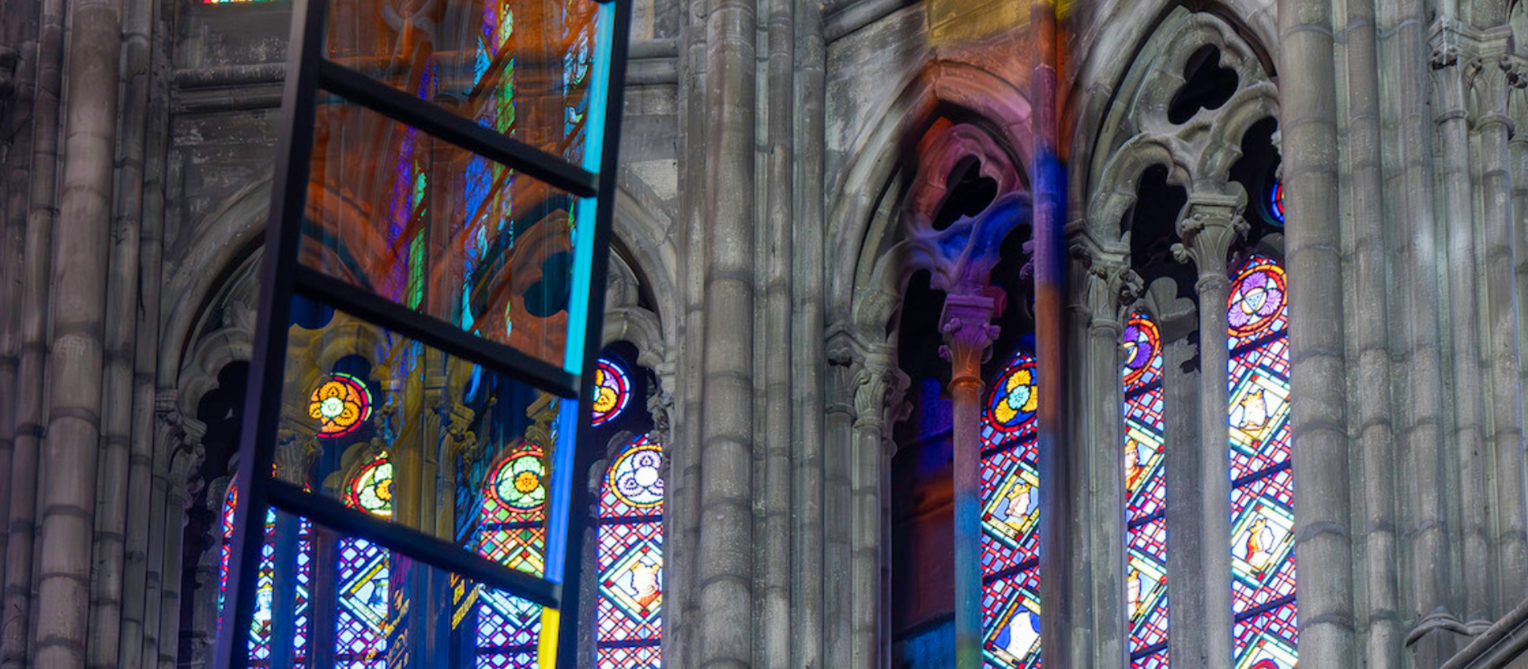 Crescendo by Stephen Dean
Discover Stephen Dean's monumental installation in the chevet of Saint-Denis cathedral basilica!
Admission

Free admission to the installation after payment of the necropolis entrance fee (on site or online).
Specially created for the chevet of the Cathedral Basilica of Saint-Denis, the suspended installation Crescendo by Stephen Dean rises to a height of 15 meters. Taking the form of a ladder adorned with colored dichroic stained glass, the color of the glass changes according to the viewing angle and light source.
Stephen Dean was inspired by the history of the site: in the 12th century, Abbot Suger launched an exceptional stained-glass program in the abbey church, which was consecrated on June 11, 1144. He used rich iconography and shimmering colors to create a veritable showcase of light in the basilica's choir.
This symbolism continues with Crescendo by Stephen Dean. This installation, suspended in the center of the Gothic architecture, is imagined as a celebration of the radiance of light. Its title, with its musical connotations, is inspired by the intensity of light and celebrates the acoustic dimension of the cathedral.
A universal symbol: the ladder
This work is also an invitation to contemplate a universal symbol: the ladder. A link between the terrestrial and celestial worlds, the ladder symbol spans all eras, cultures and religions. It is present in various stories such as the famous biblical episode of Jacob's ladder (Genesis: 28) or in "Mohammed's book of the ladder", sometimes also in Buddhism and certain forms of shamanism, and right up to the present day with the sociological notion of the "social ladder". The ladder is a constant source of literary and poetic inspiration, evoking an upward or downward dynamic, uniting opposites and underlining the spiritual passage through initiatory levels.
The installation Crescendo installation takes on a whole new look at night. Darkness combined with artificial lighting adds a new dimension to the installation. Come and enjoy it exceptionally during Grégoire Ichou's nocturnal singing tours.
Stephen Dean is a Franco-American artist. All his work expresses his fascination for color, for its power to escape definition.
His watercolors as much as his films and installations are linked to the physiology and anthropology of color. Constantly exploring the links between light and perception, his polychrome research combines the unexpected with the imaginative. By hijacking existing objects or situations, he focuses on the immediacy of color and its ability to precede language.